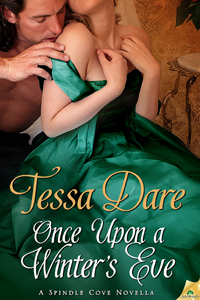 This little novella (or is it a novelette?) takes place between A Night to Surrender and A Week to be Wicked.

The main characters are Violet Winterbottom (whom we meet briefly in A Night to Surrender) and a mysterious man.

Everyone on Spindle Cove is celebrating Christmas Eve at Summerfield when a mysterious, wet, wounded and handsome man barges in and collapses at Violet's feet.

He apparently only speaks Breton and Violet is the only one who can somewhat communicate with him.

Bram isn't convinced he is an innocent and sends out him men to start scouting for an invasion or other goings on.

Susanna stitches his head wound and Violet is left with the mystery man, and Fosbury and Finn (who is still mentally recovered from having his foot amputated).

Violet thinks this man may be The Disappointment from her past, so she attempts to draw him out by telling of her scandalous past.

He doesn't take the bait and she is confused.