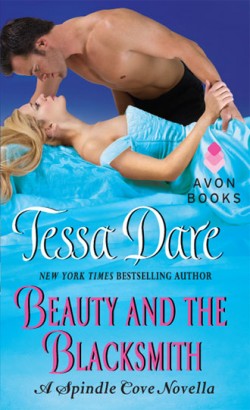 4 stars
This is the fifth installment in the series and it is a novella. We know both of the main characters quite well. This story is about the eldest Highwood sister, Diana and (obviously) the blacksmith, Mr. Aaron Dawes. They have both had their eye on the other since the night they worked together to save…I can't remember his name, but in the first book there is a boy who requires his food amputated. Quite a strange time to fall in love but that is when it happens!
Since this is a novella, it is obviously short and to the point. Diana was never my favorite Highwood, but in getting to know her in this book we find she is more than kind and beautiful. She longs to be her own person and this story tells how this happens. Aaron is a big, brawny, soft-hearted blacksmith…enough said. Diana's mother is her usual annoying self. At the end, the author tries to redeem her, but at this point it is too little too late and the damage is done. I do not care why she acts the way she does, I just don't care for the mother.
The next book is Any Duchess Will Do. I am sure I will read this book, but I am not nearly as excited as I was for the others. We just met Pauline in this book when Fosbury tries to convince Aaron to go after her instead of Diana. I do not believe we have met the man yet.
Favorite Quote:
"They are a great many situations a woman might do well to drive away from. Very few where it's advisable to shoot her way out."