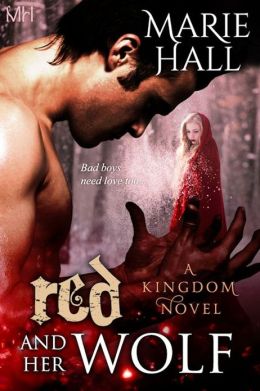 I got this book through Lendle and boy did it take a long time to get it, but it was worth it. I think it is around 200 pages so it is a fairly quick read. This book followed the third guy in "The Bad Five" which is the Big Bad Wolf from Little Red Riding Hood. Of course, it has Marie Hall's twist on it so it is not at all the fairy tale that you remember.
Brief Synopsis:
The heroine of this story is kind of an anti-heroine. She is "little red riding hood". Her name is Violet, but some call her the Heartsong. The Heartsong is the incarnation of all the black magic from The Ten (the top ten most powerful fairies) and one of The Ten wants to kill the Heartsong to steal all that power. The rest of The Ten attempt to keep her safe. I am actually not sure how long of a time span that Violet is hidden away but one period lasted over 500 years! The problem is that The Big Bad Wolf (we will call him Ewan from now on) found out that Violet is his mate and is going mad looking for her! There is a plan for Violet that she will need Ewan to make it through, but Violet hates Ewan. She has some memories of him that are skewed that has caused this hate for 500 years. He has to win her over before the end. There is so much more to the story line, but I'm not going to go into that here.
The next book in the series is about Jinni. I really can't wait to read Hook's story.