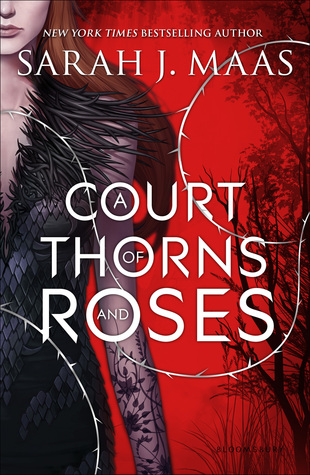 I hope this is the start of a new series for this author.

I absolutely love her "Throne of Glass" series.

This series has a lot of history packed into it.

The humans live in only certain areas of the world after a treaty was signed to end a very bloody and deadly war between the humans and the fae.

The treaty is the only thing that is keeping the humans safe at this point, but word is getting out that things are changing.
This series follows a nineteen year old girl, Feyre, as she struggles to care for her family.

She has two sisters who are almost helpless and a family who was disabled by creditors after they lost their fortune.

She alone is able to provide food and other necessities for her family.

She is out hunting one evening when she ends up killing a wolf.

A beast, who is obviously fae, comes to her door seeking retribution.

The treaty demands that Feyre go with the beast to live out the rest of her life in faerie.
The beast's name is Tamlin and he is even more deadly than she imagined.

Yet, the more Feyre learns of both Tamlin and the blight upon his lands the less she hates him.

Eventually she comes to care for Tamlin but it might be too late for it to make a difference.
There are some aspects of the story that are still a little fuzzy so I hope that the next book clears this up.

Some of the characters motives and personalities need a little more fleshing out and I would actually like to understand the relationship between Tamlin and Feyre better to understand the depth that each went through to protect the other.

I look forward to more!