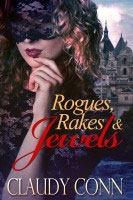 The Marquis of Lyndhurst is sent to the Isle of Wight by his mother to meet yet another grasping female who wants his money and title.

He is sick of this and devises a plan for his cousin to play the Marquis and for the Marquis to play as his cousin.

He thinks Jewelene will fawn all other the man she thinks is the Marquis, but of course, he would be wrong.

He finds himself very attracted to Jewels and regrets his deception, but Jewels has a deception of her own.
There is the typical bad guy in the Claudy Conn historicals who will stop at nothing to get what he wants, including many nefarious deeds that the Marquis must move to stop.
This is a quick read and I love them.

Lots of fluff and nonsense, but a wonderful escape for a few hours.